It is no secret, anyone who knows me is fully aware that I am a Denzel Washington fan. When it comes to acting, that man can do no wrong. So, it stands to reason that my first 'Wednesday Movie Review Blog' will be about a movie which he produced, directed and starred in – "Fences."
Leading up to the movie's release date, I had high expectations. The fact that the script was originally written and performed by the same actors as a live theatrical production made it even more appealing. As usual, there were the naysayers. I heard people who said the movie was not good at all and tried to discourage others from seeing the screenplay.  But, I had to see it for myself, judge it for myself – and boy was they wrong.
I must admit it started out a little slow for me, and the flow seemed a little awkward. Then I remembered that it is a stage play (August Wilson's Pulitzer Prize-winning play) adapted for the big screen – and still had some theatrical elements. Then it all made sense. It was more about the characters, their body language, dialogue and interactions with one another than special effects. The simplicity of the setting even reflected theater – mostly their home, backyard, street. Very seldom did they venture out into other sceneries – the bar, his trip to his bosses' office, the garbage truck route.
Troy Maxson, Denzel Washington's character, is a sanitation worker, father, husband, and friend. One thing was evident, Troy liked to talk a lot – a whole lot.  Sometimes, he had too much to say.  He told great stories about fighting with the devil, cheating death, furnishing his home on credit, his relationship with Rose (his wife played by Viola Davis). His storytelling and uncanny way of summing things up kept you listening – he was an exaggerator, he spun the truth so until if Rose wasn't there to set the record straight you wouldn't know the difference. That was his charm and turned out to be his only charm.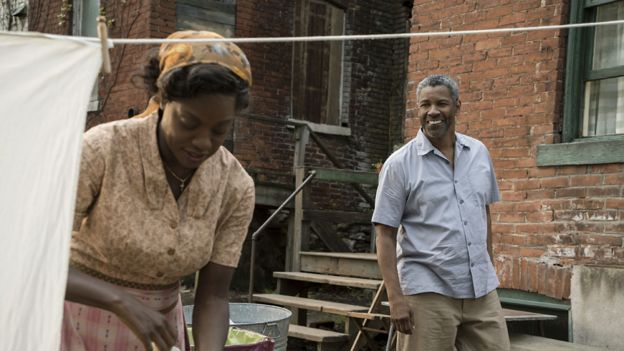 For a man who didn't have a pot to piss in, or a window to throw it out of,  Troy was dogmatic and assertive in his opinion's. You quickly saw that he was bitter, insecure, frustrated and emotionally miserable.  Anything positive accomplished by someone else he quickly criticized, he had to throw mud on it.  Troy had the hair standing up on the back of my neck from the start!  It was obvious that he hated himself, he hated his life, he hated the fact that he was an 'underachiever' – and took it out on his family. His strained relationship with his sons was a sickening reflection of his self-loathing.  Denzel's character was controlling and overbearing – he didn't leave room for anyone to thrive. He was cruel, disconnected, and self-absorbed – I hated Troy for sure! Until!
I hated him until he told the 'true story' of how his father treated him and how his mother abandoned him at eight years of age – promising to come back to get him but never did.  Climaxing with a brutal beating from his father at the age of fourteen when they fought because he was trying to protect his then thirteen-year-old girlfriend from being sexually assaulted by his own dad. At this point, it was no more staying at home. He left home and took on a life of robbing to survive, ended up in prison for fifteen years where is learned to play baseball; and, where he met his lifelong friend Jim Bono (Stephen Henderson).  Hearing his story, the events of his life, helped me better understand him, I still disliked him but at least I understood him. It almost brought tears to my eyes. But, I just could not allow myself to feel that sorry for Troy.
Denzel's character was not the only strong and viable role in the movie. Viola Davis played Rose, Troy's passive, loyal, supportive, and submissive wife. Typical 1950's 'stand by your man' housewife and mother. She did not work outside of the home – her life was mostly played out inside the home, in their backyard, walking out the door going to church – and once, actually in the church on her knees in prayer.  This was her life – centered around her family and faith.
Now, although Rose was passive, she could be assertive at times. She always buffered and stood up for her sons, and corrected Troy when he was obviously being unreasonable, domineering, and totally out of line. She had her way of calling him out – she didn't take it laying down for sure. With the exception of being blindsided by his infidelity, she knew her man. Troy was a man who fell from grace. In his eyes, he had his dreams stripped from him by a racist society that would not allow him to succeed.
However, the nail in Troy's coffin for me was when he without compassion, without remorse and unapologetically informed Rose that he was having an affair and in his words, "I'm talking, woman, let me talk. I'm trying to find a way to tell you that I'm gonna be a daddy. I'm gonna be somebody's daddy." At this moment, my heart dropped. "I done tried to be everything a wife should be. Everything a wife could be. Been married eighteen years and I got to live to see the day you tell me you been seeing another woman and done fathered a child by her. And you know I ain't never wanted no half-nothing in my family." The look on Roses' face, her collapse at the kitchen sink, the confrontation at the chain linked fence – it all brought tears to my eyes.
Could this man get any worse? Yes, Troy was the most egotistical, self-absorbed person I had ever experienced! He had absolutely no consideration for his wife, his sons. He was obsessed with himself, his life, his emotions, his needs, his desires – his own personal pleasures. But, Rose's speech at the fence was award winning. She said what every woman wanted to say, "What about me?"  Even after her heart-wrenching narrative, Troy still didn't get it.  "I planted myself inside you and waited to bloom. And it didn't take me no eighteen years to find out the soil was hard and rocky and it wasn't never gonna bloom.  But I held on to you, Troy. I held you tighter."
All of "Fences" characters were portrayed brilliantly and brought to life by their actors and actresses. Gabriel Maxson, or Gabe, played by Mykelti Williamson – Troy's veteran brother who was injured during the war, stealing the show chasing them hell hounds.  Lyons Maxon, Troy's oldest son, played by Russell Hornsby – chasing a dream of being a musician, needing his father's approval.  Cory Maxon, played by Jovan Adepo – a young boy struggling to become a man while having his dreams of going to college on a football scholarship squashed by his evil resentful father, Troy. Jim Bono, Troy's best friend played by Stephen Henderson – always paying attention, tried to keep him on the right track. And lastly, Raynell Maxson, played by Saniyya Sidney –  the daughter Troy fathered with his mistress Alberta while he was married to Rose.
The movie "Fences" was not the typical film and screen production. For me, it was brilliantly performed and a great adaption from stage to screen. I would highly recommend it!
"Fences" Movie Review Blog — Yvonne James | https://www.yvonnejames.com