Today's supper consists of smothered chicken wings, with potatoes and carrots, greens and bread.
Fill a large skillet halfway with water.
Add your seasonings (salt, pepper, cajun seasoning, poultry seasoning, etc.)
Wash your chicken and add it to the skillet and bring the water to a boil
Add 1 sliced (not chopped) potato, 2 sliced carrots to the skillet, 1 chopped onion, and 1 chopped bell pepper.
Bring it to a boil, and then lower heat
Cook covered on medium high. Check frequently to maintain enough water in the skillet to keep the chicken from burning or sticking. Cook until chicken is falling off of the bones.
Those last 5 – 10 minutes you want as little juice as possible because you want your food to sizzle a little bit inside the pan to get it that browned look.
3 Can of Cut Green Beans
2 Slices of Bacon Fried
Place the green beans into a pot large enough to hold the three cans, break the bacon into pieces and place in the pot, pour the bacon grease into the pot as well.
Bring the green beans to a boil, cover, and reduce heat to medium. Let the green cook on a simmer until the rest of the food is ready.
Preheat Oven to 375 degrees
Pour enough vegetable oil into the bottom of a 9 inch round cake pan to cover the bottom of the pan. Place the pan in oven to heat while the oven is pre-hearing.
Meanwhile, in a large bowl, mix 1 1/2 cup of Self-Rising White Buttermilk Corn Meal Mix, 1/2 cup of Self-Rising Flour, and 1/3 cup of Sugar
Stir all of your dry ingredients together,
Pour in milk and stir (Your batter should be a little thicker than a pancake mixture), so only pour in a little milk at a time until you get the consistency you want. Next, add 1 extra large egg into the batter and mix well. Stir, stir, and stir.
Remove your pan from the oven – the oil should be hot. This is going to give the bottom and edges of your bread a crispy/fried taste and texture.
Pour your cornbread batter into the pan and bake at 375 degrees until golden brown and a knife, inserted in the center, comes out clean.
Once, my cornbread is ready, I like to melt butter and spread over the top.
Enjoy!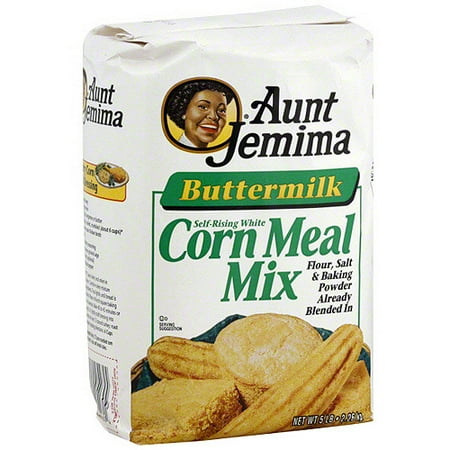 Easy Cooking, Easy Like Sunday Morning ~~~ Yvonne James | https://www.yvonnejames.com